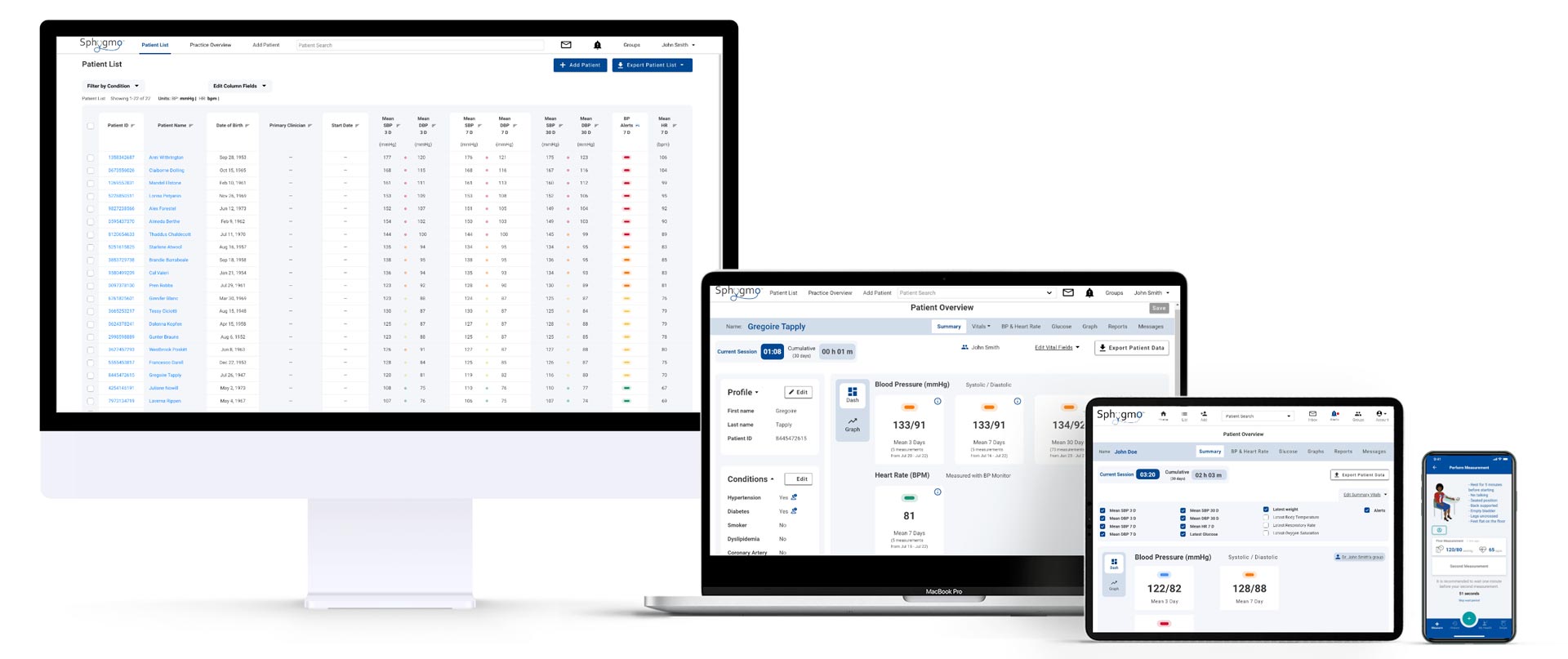 The Sphygmo remote patient monitoring platform consists of a patient facing app and a clinician web portal. The Sphygmo smartphone/tablet app that can be used to monitor blood pressure (BP), glucose, heart rate, weight, pulse oximetry, respiratory rate, and temperature. Trending and calculation of averages can be performed. It is available as a free download from Apple App store and Google Play in English, French, Spanish, and Chinese.
Measurements can be entered manually or via any one of over 35 compatible Bluetooth-enabled devices. Additional features include educational content on the diagnosis and management of hypertension as well as patient engagement tools.
Subscribing clinicians or researchers can view patient/subject data using our web-based clinical portal. Additional features include practice analytics, .csv data downloads, data summarization tools, secure instant messaging. Customization and EMR integration are also available.
Blood Pressure Monitoring & Management Following Best Clinical Practice
In-clinic BP measurements are inaccurate in up to 40% of patients because of the white coat effect (in-clinic BP is spuriously high leading to unnecessary treatment) or masked effect (in-clinic BP is spuriously low causing failure to up-titrate therapy). Home BP monitoring is recommended by all global clinical practice guideline committees to ensure accurate assessment.
The Sphygmo remote patient monitoring platform, with our Swipe Averaging™ feature, allows you to instantaneously summarize data over any time period in a guideline concordant manner. Simply swipe over the days the readings were taken to determine overall, morning, and evening BP over a given calendar interval.
These calculated BP series can be saved and easily compared over time (for example, to guide drug titration). Sphygmo also provides assessments and comparisons of morning BP versus evening BP and postural variance in BP.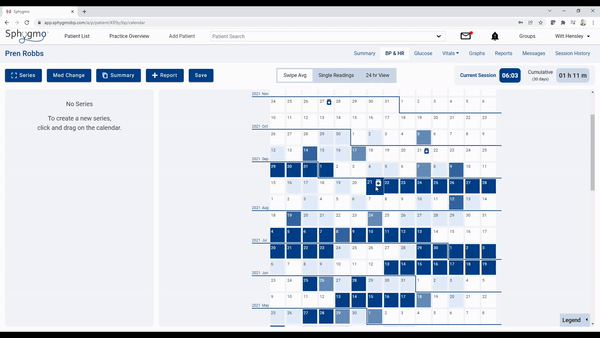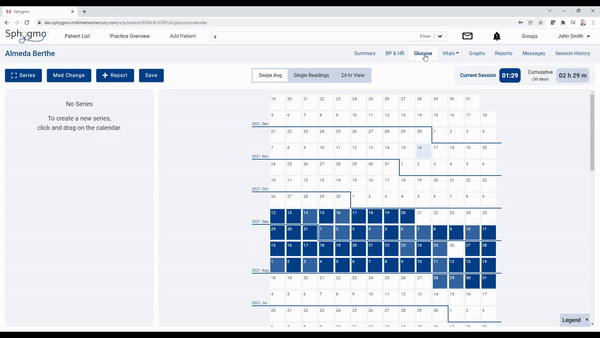 Glucose Monitoring & Management
Sphygmo also summarizes glucose data to facilitate best practice. Many patients with diabetes take readings only once a day. Our Swipe Averaging™ feature allows patient and clinician users to merge multi-day data to 'synthesize' a typical day of glucose readings, even if only one reading is taken daily. Patients can be instructed by their providers to take their single daily readings at different times each day, and then simply swipe over several days or weeks to instantaneously determine a synthesized day of glucose readings.
It has never been easier to follow clinical practice guidelines. Healthcare providers interested in signing up, receiving a new 'link code', or trialing the Sphygmo remote patient monitoring platform can email: [email protected].
Which Bluetooth Devices Are Compatible with Sphygmo?
Blood Pressure Monitors
A&D Medical
A&D Medical Premium Wireless Blood Pressure Monitor UA-651BLE

A&D Medical Premium Wireless Blood Pressure Monitor UA-1200BLE

A&D Medical Premium Wireless Wrist Blood Pressure Monitor UB-1100BLE

A&D Medical Premium Wireless Blood Pressure Monitor UA-651BLE-V
BIOS
BIOS Protocol 7D MII (BD245)

BIOS Protocol 7D MII (BD250)
BIOS Protocol 7D MII (BD252)
BIOS Protocol 7D MII SDM (BD353)
BPM Compact BD323
BPM Compact SDM BD354
Equate
Equate UA-8500BLEWM
Equate UA-6000BLEWM
Equate UB-6500BLEWM
Omron
Omron 7 Series BP761 HEM-7320T_TI-Z

Omron 7 Series (Canada) BP761CAN HEM-7320T_TI-CA

Omron 7 Series BP761N HEM-7320T-ZV

Omron 7 Series (Canada) BP761CANN HEM-7320T-CA

Omron 10 Series BP786 HEM-7321T_TI-Z

Omron 10 Series (Canada) BP786CAN HEM-7321T_TI-CA

Omron 10 Series BP786N HEM-7321T-ZV

Omron 10 Series (Canada) BP786CANN HEM-7321T-CA

Omron Blood Pressure Monitor BP769CAN HEM-7320T-CACS

Omron EVOLV BP7000 HEM-7600T-Z

Omron Silver BP5250 HEM-7151T-Z

Omron Gold BP5350 HEM-7341T-Z

Omron Platinum BP5450 HEM-7340T-Z

Omron 5 Series Upper Arm Blood Pressure Monitor BP7250 HEM-7150T-Z

Omron 7 Series Upper Arm Blood Pressure Monitor BP7350 HEM-7340T-Z

Omron 10 Series Upper Arm Blood Pressure Monitor BP7450 HEM-7342T-Z

Omron 10 Series Upper Arm Blood Pressure Monitor (Canada) BP7450CAN HEM-7342T-CA

Omron Complete Blood Pressure Monitor BP7900 HEM-7530T-Z

Omron Wrist BP653 HEM-6321T-Z

Omron Wrist BP654 HEM-6320T-Z

Omron Gold Wrist BP4350 HEM-6232T-Z

Omron 7 Series Wrist Blood Pressure Monitor BP6350 HEM-6231T-Z

Omron Bluetooth Blood Pressure Monitor HEM-9210T/9200T
Microlife
Welch Allyn
Welch Allyn HBP100SBP – 1700 Series
Weight Scales
A&D Medical
A&D Medical Wireless Weight Scale UC-350BLE

A&D Medical Premium Wireless Weight Scale UC-352BLE

A&D Medical Premium Wireless Weight Scale UC-352BLE-V
Glucometers
Roche
Roche Accu-Chek Guide Model 930
Trivida
Bionime / GE
Pulse Oximeters
Contec
Nonin
A&D Medical
Thermometers
BIOS Medical
BIOS Diagnostics 239DI High Precision Digital Thermometer
BIOS Diagnostics 240DI Bluetooth Digital Ear Thermometer
Pediatric Devices
Contec
Pediatric Blood Pressure Monitor 08A-BT
Beurer
Pediatric Weight Scale BY90
Healforce
Pediatric Pulse Oximeter Healforce PC-60NW